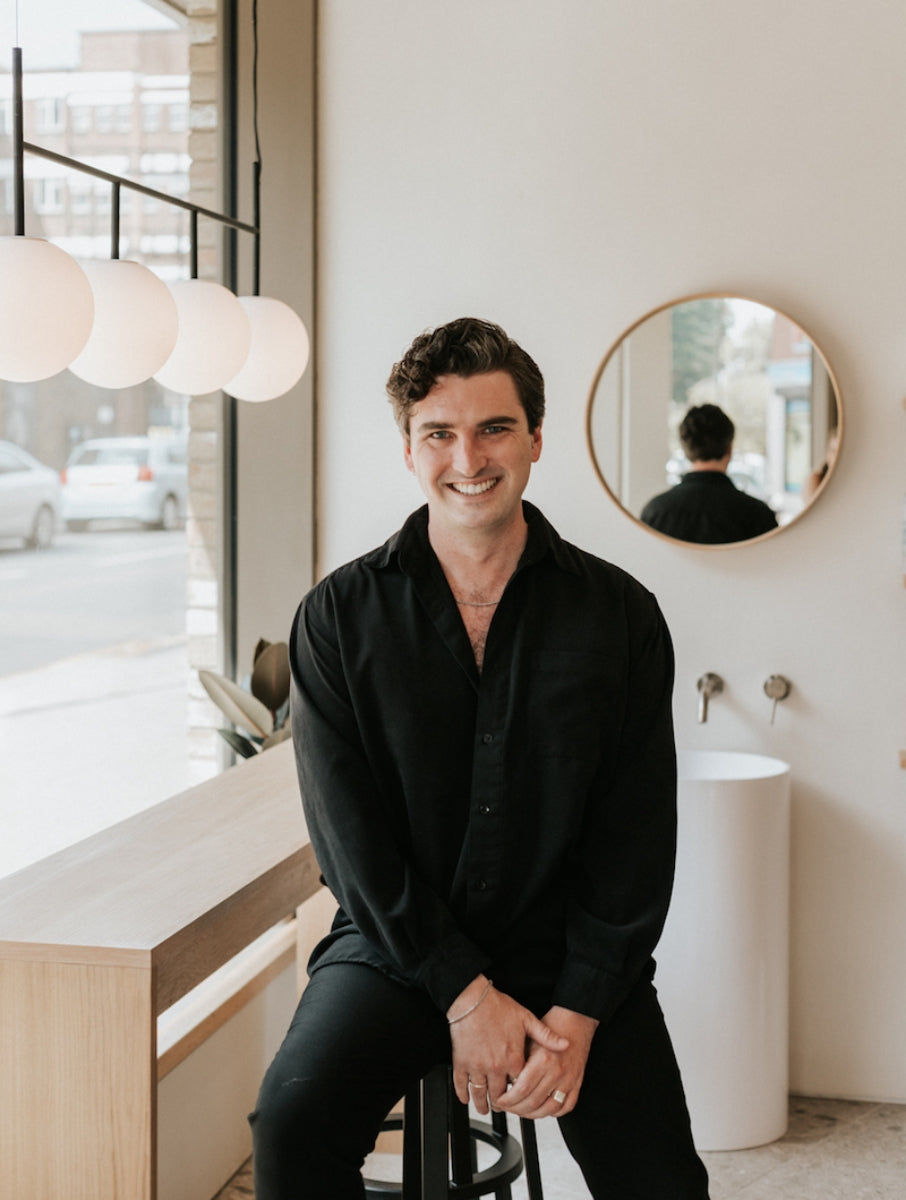 Dylan Donnelly
Senior Colour Technician and Operations Manager
Put simply, Dylan is the best colourist I've found in the 12 years I've been in London!
Dylan is our wonderful Senior Colour Technician and he is also our Operations Manager, which makes him our multi-tasking and multi-talented salon whizz. With a background in fashion design and an upbringing spent in his mother's salon, Dylan understands hair and beauty and knows what it takes to create something timeless and beautiful. Fully trained in the Glasshouse colour range and techniques, Dylan is now taking bookings for all colour services

Why do you choose to work with organic products?

I grew up in salons, my mum owned a natural salon in the 90s and 00s from which I gained an awareness of the benefits that using organic products can have on your hair, skin and body. Sustainability came to the fore for me when I was working in and studying fashion design. Rate of consumption is a glaring issue in the fashion and beauty industry and has influenced how I choose what to work with and purchase. It seems like a natural progression for me to now be training as a stylist in a natural and eco salon, albeit on the other side of the world.

What's your favourite local hang out?

I stop by Violet coffee shop on Wilton Way every morning on my walk to work. They have the most beautiful baked goods. I head to Pamela on Kingsland Road especially for their cocktails and for the La Cumbia Colombian food pop up, and go to The Scolt Head if I want to enjoy great food and drink on a lovely patio shrouded in greenery.

What's in your beauty bag?

My beauty bag is mainly centred around nurturing my curly hair. I use Oway's Curly Potion for gentle definition and hold, their No-Rinse Conditioner to nourish and give shine, and Organic Colour Systems' Control Texture if I want to push my hair back.

What do you do to unwind?

For me, unwinding is about taking time for myself. I love to sit with a cup of coffee and read on the decking outside my flat or spend a few hours drawing. I have been known to take myself for lunch and a cocktail in the members room at the V&A then wander around the different galleries, or seek out a fashion related exhibition.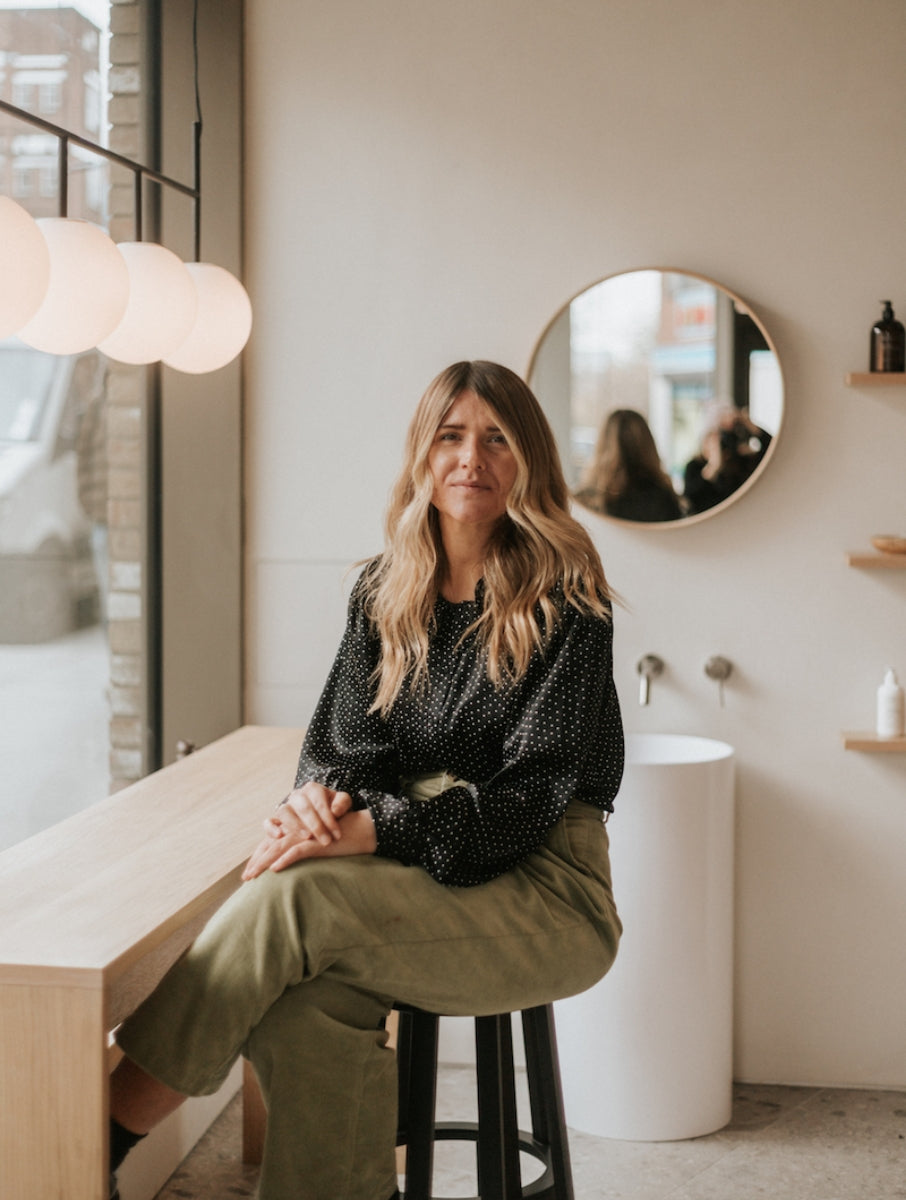 Talia Cooper-Gray
Director
My hair has never looked as healthy and beautiful since Talia started doing it and I get loads of compliments! She is a lovely and lively person… Can't recommend her and Glasshouse Salon enough.
After living in Australia for 5 years and working at a top salon in Sydney, Talia returned to her home country here in the UK before joining the Glasshouse team. She is a true colour expert with a knack for creating natural looking balayage and effortless waves.

Why do you choose to work with organic products?

I love using products that are as natural and raw as possible that aren't overloaded with too many ingredients or potentially toxic chemicals. I'm quite a health conscious person and so I prefer to opt for products that contain fewer ingredients that are carefully selected, high quality and organic-based for professional results that don't harm the health of the hair, skin or the environment.

What's your favourite local hang out?

I love visiting the many local tapas bars in East London, such as El Ganso round the corner from the salon, for a great variety of food, good wine and chats with friends.

What's in your beauty bag?

I use the Dagger Rose Balm by Guy Morgan on my skin every day, it's so hydrating and I love that it's made just round the corner from us. I also am a huge fan of the Sea Salt Spray from Oway as I like my hair to have a tousled, relaxed beach look.

What do you do to unwind?

Whenever I get some down time I love to do some yoga to properly relax. On weekends I like to take long bike rides, walks or even a swim somewhere outdoors.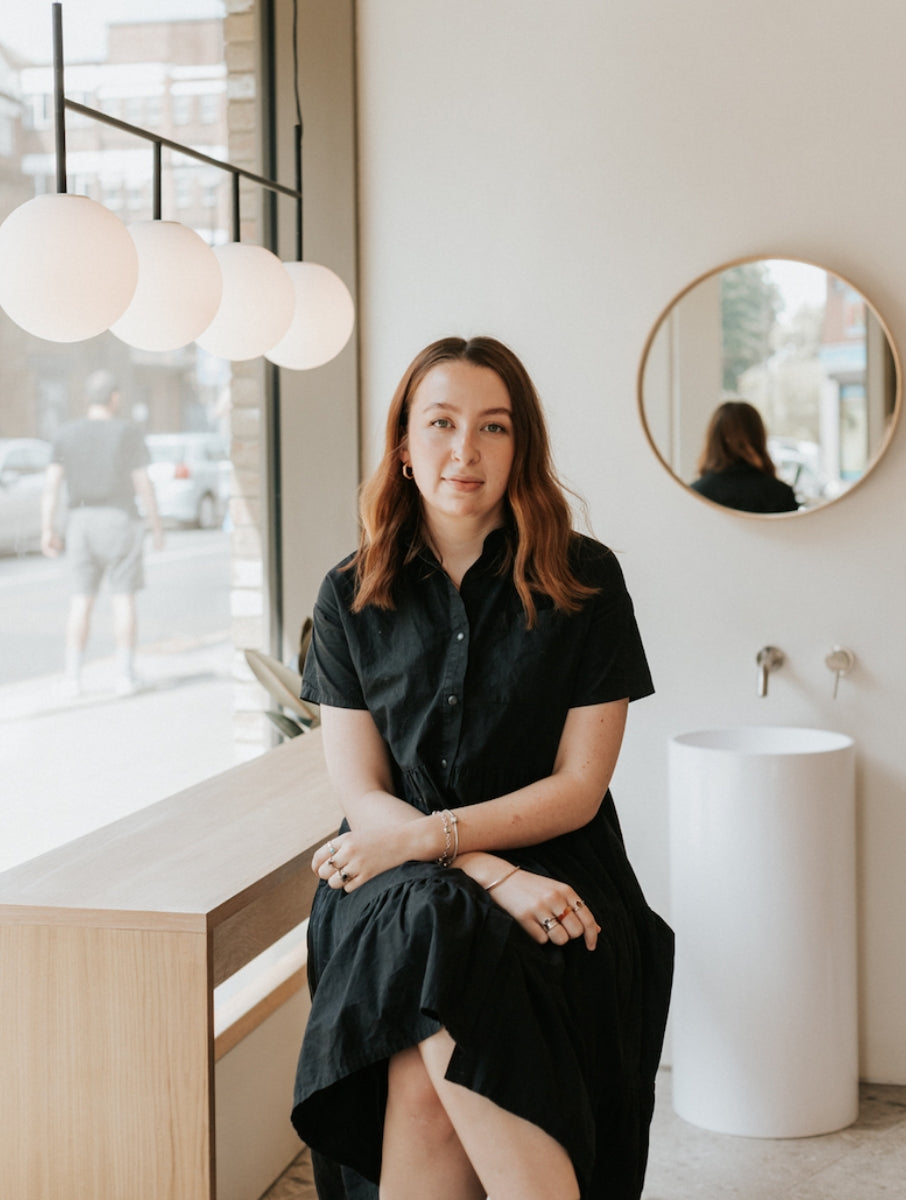 Abbey Hudson
Creative Director
Abbey consistently does an incredible job. She is down to earth, easy to talk to, but also very knowledgeable & thoughtful. She really listens to what I want & delivers 100%!
A specialist in creating natural blondes and textured haircuts with lots of movement Abbey has over 8 years of experience. Most recently working at an award winning space in Brighton after starting her career in New Zealand, Abbey has become known at Glasshouse for her ability to enhance natural hair colours and innate talent for putting you at ease in the chair.

Why do you choose to work with organic products?

Growing up in New Zealand I was surrounded by amazing beaches, forests and naturally preserved landscapes. Being conscious of your impact on the environment and caring for natural ecosystems is literally ingrained in New Zealand culture. Having this huge influence since childhood has made me so considerate of the products I use and consume, working with organic and sustainable products is second nature to me.

What's your favourite local hang out?

Being in green space is so important to me, I spend most of my time in the local parks and love grabbing the vegan caesar salad from Palm Greens for an on-the-go lunch.

What's in your beauty bag?

I've become really invested in Guy Morgan's jade Gua Sha, it's extra soothing on the facial muscles if you keep it in the fridge. I also love to soak in La Eva's Roseum Bath Salts, they double as a body exfoliant which leaves you feeling super soft and relaxed. Oway's Smoothing Cream is my go-to for soft and frizz-free hair, along with their Nurturing Drops if I feel my ends need extra care.

What do you do to unwind?

When I need to make space for myself I actively avoid screens and like to read, paint with watercolours and go for walks in nature. I got really into yoga over lockdown and find that baths with Epsom salts are similarly beneficial, cleansing toxic energy from your mind and body. My favourite thing is swimming in the sea. I want to explore the UK coastline so I can do much more of that this year!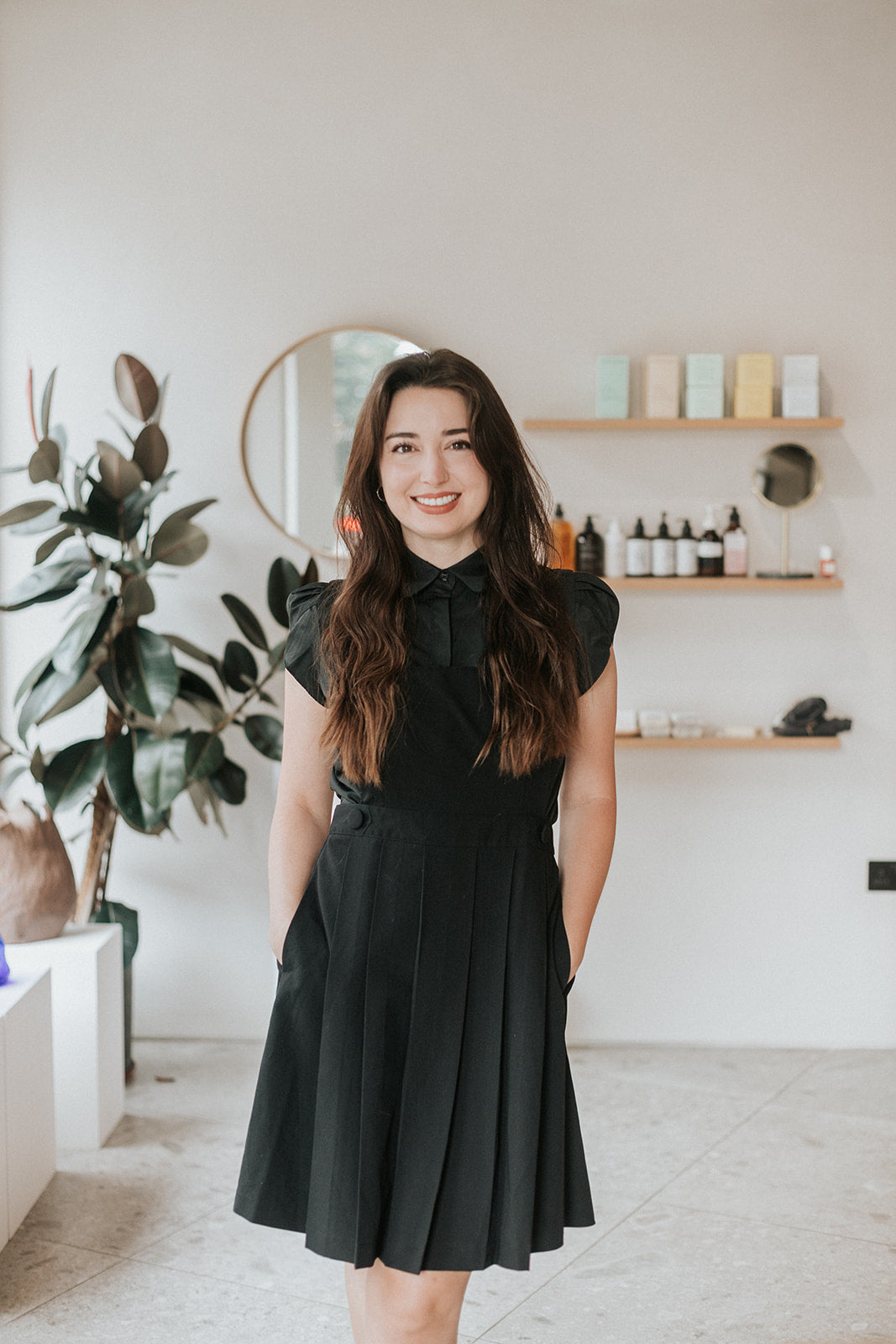 Ashley Wadwell
Senior Stylist
I had such a great experience with Ashley, I can really tell how knowledgeable she is and I trust her opinion.. it totally paid off; I'm in love with my hair!.. an absolute delight and I can't recommend Glasshouse more!
Why do you choose to work with organic products?
Since I started working in salons, I was surrounded by highly fragranced and toxic products, having no idea the harm it can cause to the body. Breathing in thick clouds of hair spray and getting headaches from colouring my hair, it eventually clicked with me and I knew I needed to make a change. I have done a lot of research into why to choose organic, like reading labels and researching on the EWG website to figure out each ingredient's purpose. I have peace of mind knowing that what I'm breathing in and the products I am working with, are not harmful to me. Moving from New Jersey, USA to London, my mission was to start fresh and search for a non toxic, organic salon and I am so happy to have found Glasshouse

What's your favourite local hang out?

London is filled with so many amazing things to do and see! I would say hanging out in beautiful parks such as Victoria Park and London Fields with my dogs is the best time! Breathing in that fresh air, seeing the dogs play, and having a nice picnic is just a perfect day for me. I also love strolling through Broadway Market, especially on the weekends; great shopping, great energy and amazing food.

What's in your beauty bag?

In my beauty bag, I keep it simple; for makeup I love RMS UnCoverup Concealer; it's super lightweight, beautiful coverage and gives the skin a nice natural finish. When it comes to hair I keep it simple with products; I love Oway's No Rinse leave in conditioner- super lightweight conditioning which is perfect for my fine hair. I also love Oway's Glossy nectar just to give my hair that extra boost of hydration and shine!

What do you do to unwind?

To unwind, I love to be outdoors on a beautiful day with my Husband and my two dogs hanging out in a park, going for a nice long walk; that brings me the most joy!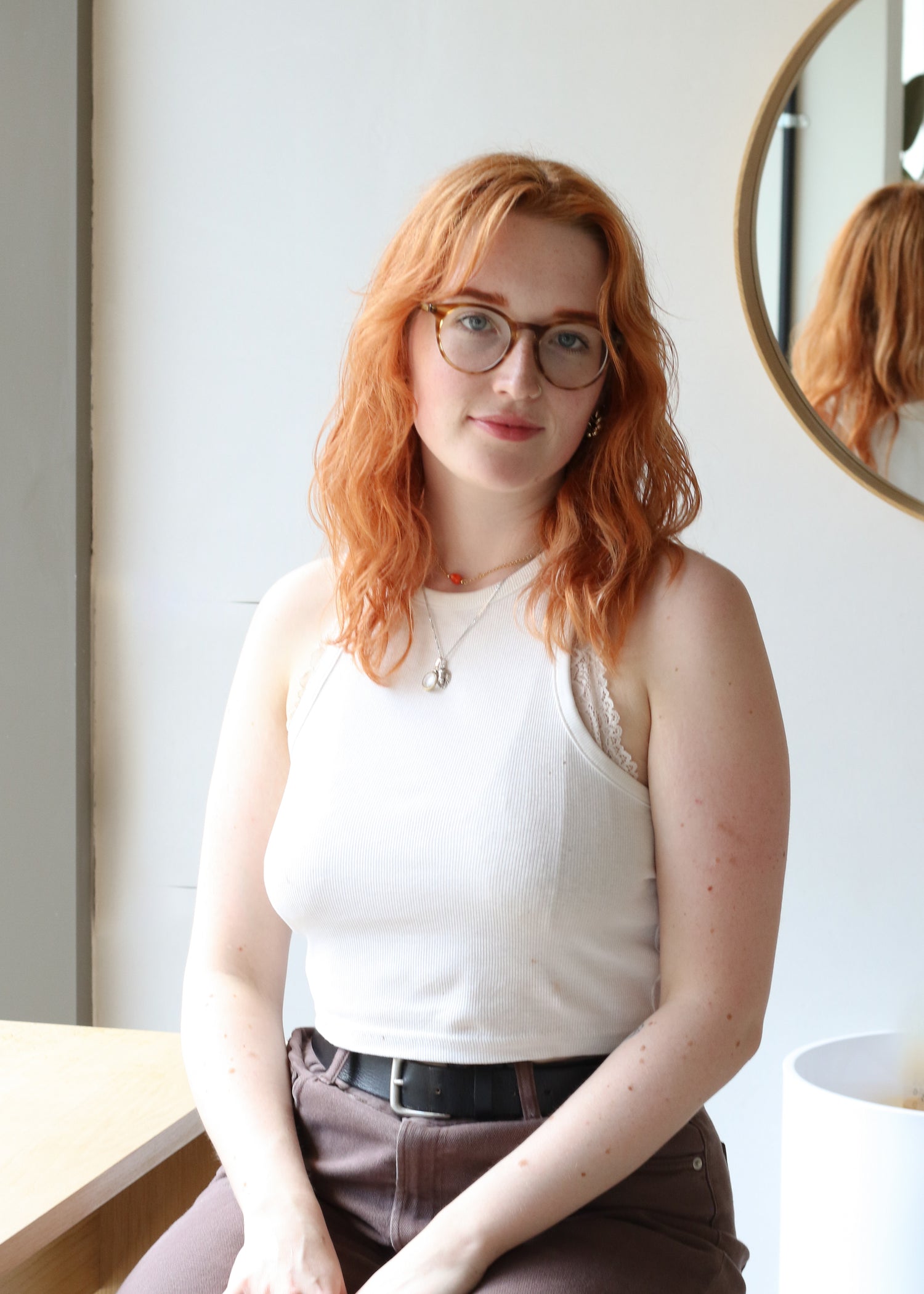 Amelia Scott
Colour Technician
Amelia is truly gifted and highly skilled in her job. She is also a lovely, delightful presence at the salon, and I look forward to seeing her on my appointment days. She has a way of putting people at ease, and is wise beyond her years.
Amelia is our Senior Colour Technician who brings a sunny, positive attitude and big smile to the salon. London born and bred, Amelia loves working in an environment that supports her own passion for sustainability, self-care and female empowerment.

Why do you choose to work with organic products?

After studying Geography as one of my A Levels, I became so much more aware of the impact our consumerist society has had, and is still having, on the environment. Learning the science behind climate change made me start thinking about the small changes I could make to reduce my carbon footprint. One of the easiest switches has been to organic haircare. I believe organic products are a better, more sustainable option for everyone; not only because they are less damaging to the hair but also because they are less toxic to the environment. Here at Glasshouse, you can even refill your empty shampoo and conditioner bottles once you've used them up which reduces plastic waste!

What's your favourite local hangout?

For some yummy food, good music and a great atmosphere, I love to take my friends to Martello Hall which is now conveniently across the road from the salon! So far, everyone I have taken there has loved it, we're guaranteed a good night. I also love the London Fields Brewery for delicious and affordable drinks. During the day, I love browsing the great selection of markets around London Fields. Mare Street Market has a beautiful florist and a great deli section. Netil Market offers a great selection of freshly made hot food and sometimes, on a Saturday, there is a vintage stall full of great secondhand furniture and other unique pieces.

What's in your beauty bag?

An essential to my beauty bag is my own bespoke colour treatment, mixed at Glasshouse, to top up my hair colour at home as it gradually fades. I love using the Power Build Treatment by Organic Colour Systems mixed with my favourite combo of No Limits Semi Permanent Hair Colour to keep my signature copper looking fresh and vibrant whilst also maintaining soft and healthy hair. It also smells divine! (Which is the most important thing, isn't it?) Since I usually let my hair air dry after washing, styling products are a must have for me. I like to use the Organic Colour Systems Aqua Boost Leave In Conditioner when my hair is damp as it's good at detangling and softening. When my hair has dried, I use Oway's Glossy Nectar to achieve a smooth and shiny finish.

What do you do to unwind?

In my spare time I love playing around with my creative hobbies whilst listening to my favourite records in my bedroom. Recently I've been spending a lot of time doing embroidery and listening to podcasts. Most of my work is centred around the female body and the concept of self love, which is particularly important to me. Other nights after a long day at work I like winding down with some light yoga to relax my body and my mind before I go to sleep. On Saturday nights, however, I'm definitely partial to some cocktails and a good laugh with my mates!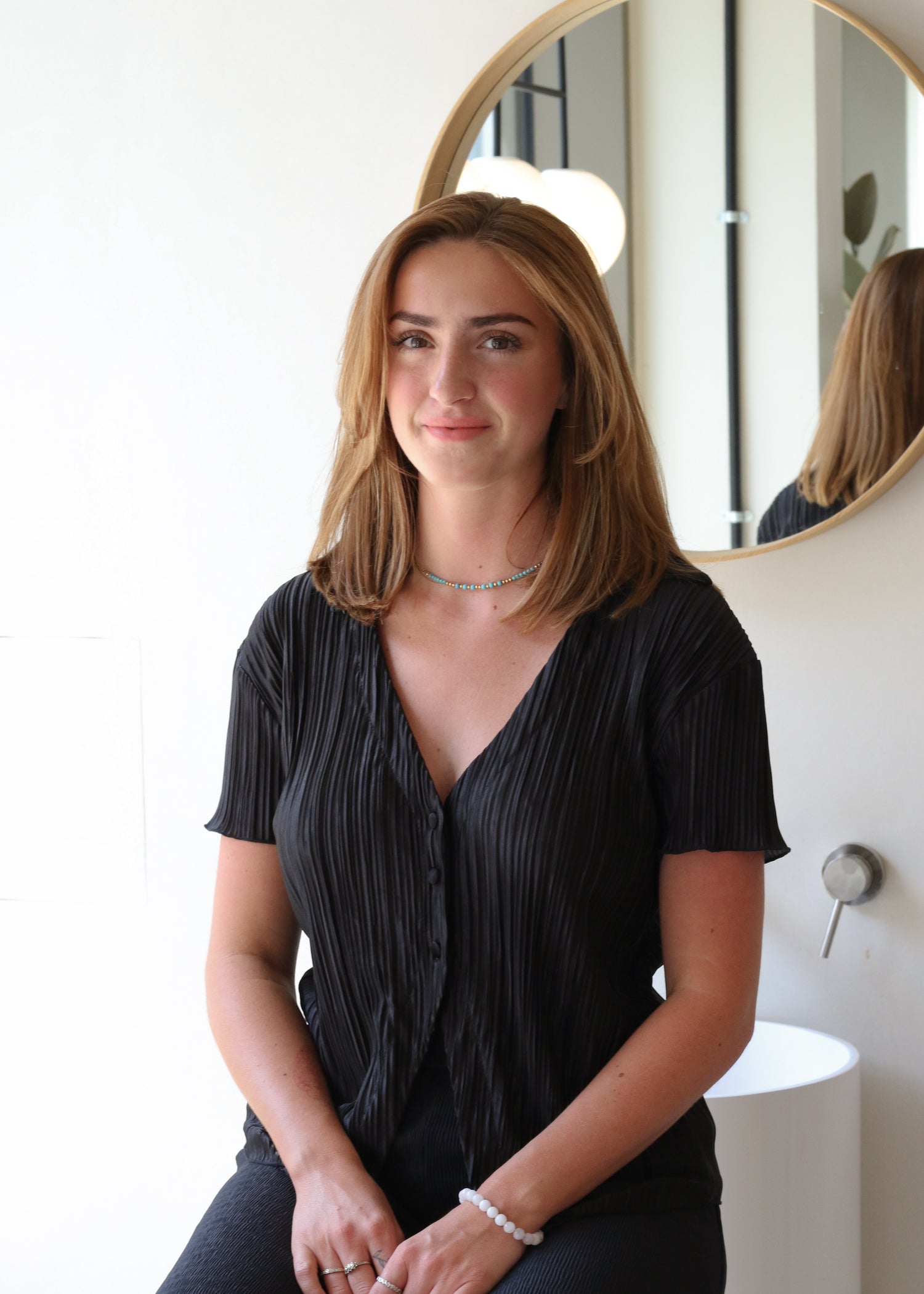 Georgia Pither
Stylist
Georgia was super attentive and really listened. The precision of the cut was amazing and I loved the products used. I left with the exact cut and style that I wanted. I don't remember the last time I left a salon feeling so good. Definitely found my new regular, thank you!
Georgia has been working as a hair stylist for the last 4 years. Confident and experienced in both colour and cut services, she loves taking clients through the whole process from start to finish.
Why do you choose to work with organic products?

I work with organic products because I live a holistic, organic lifestyle myself and it is important to me that this is also reflected in my work.
What's your favourite local hang out?

Anywhere that has live music playing!
What's in your beauty bag?

I love Evolve skincare, Ilia mascara and any herbal tea I can get my hands on! Herbal tea is a must for me as beauty starts within.
What do you do to unwind?

I like to spend as much time as I can in the garden with my two pet rabbits.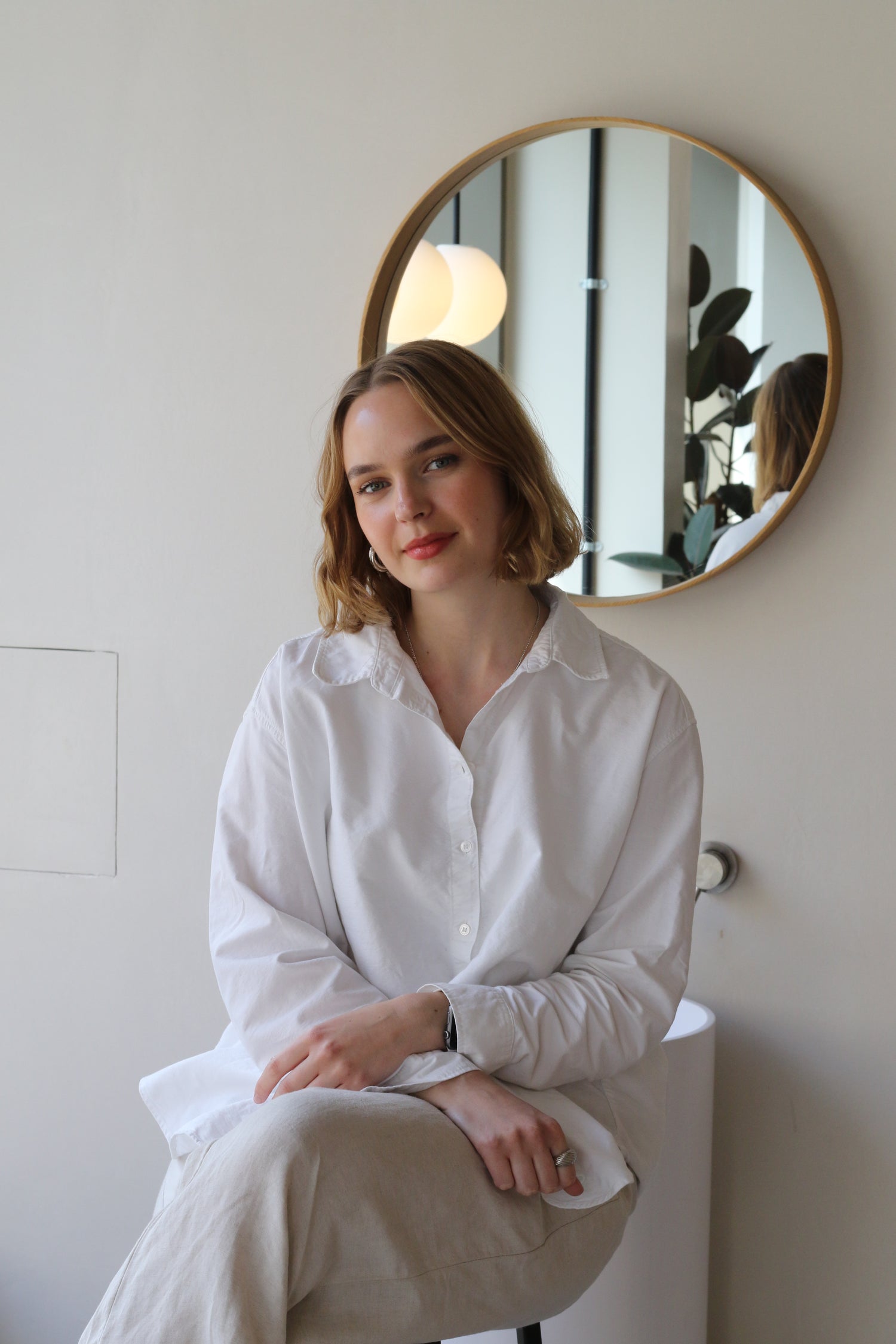 Amanda Hammarlund
Front of House Manager
Amanda is our lovely front of house manager, bringing a cheery attitude and Scandi style to the salon. Having made the move from Sweden to London in 2019 and previously trained and worked as a hair stylist, Amanda has insider knowledge of our services and is also passionate about natural skincare.
Why do you choose to work with organic products?
Growing up in Sweden, recycling and sustainability has always been a big part of my lifestyle. We've been recycling and caring for the environment, not only in my family but also at school, for as long as I can remember. It was an obvious choice for me to work with organic products and with a company who aims to give back to nature. 
Favourite Local Hang Out:
One of my favourite spots in the area is Hackney Farm. With the animals and the lovely cafe, it's the perfect place to spend a sunny Sunday!
What's in your beauty bag?
A good sunscreen is a must for me. I absolutely love the Rowse sunscreen and use it everyday to keep my skin protected from any environmental damage. I also love to keep the Evolve Daily Defense Moisture Mist in my bag - I spray this on my face throughout the day to make sure that my skin stays hydrated.  
What do you do to unwind?
I try to go to the gym a few times a week. I find that this helps me release any stress that occurs in my daily life. Other than that, the best way for me to unwind is to spend time with my friends and family, or to watch an old movie with some take out.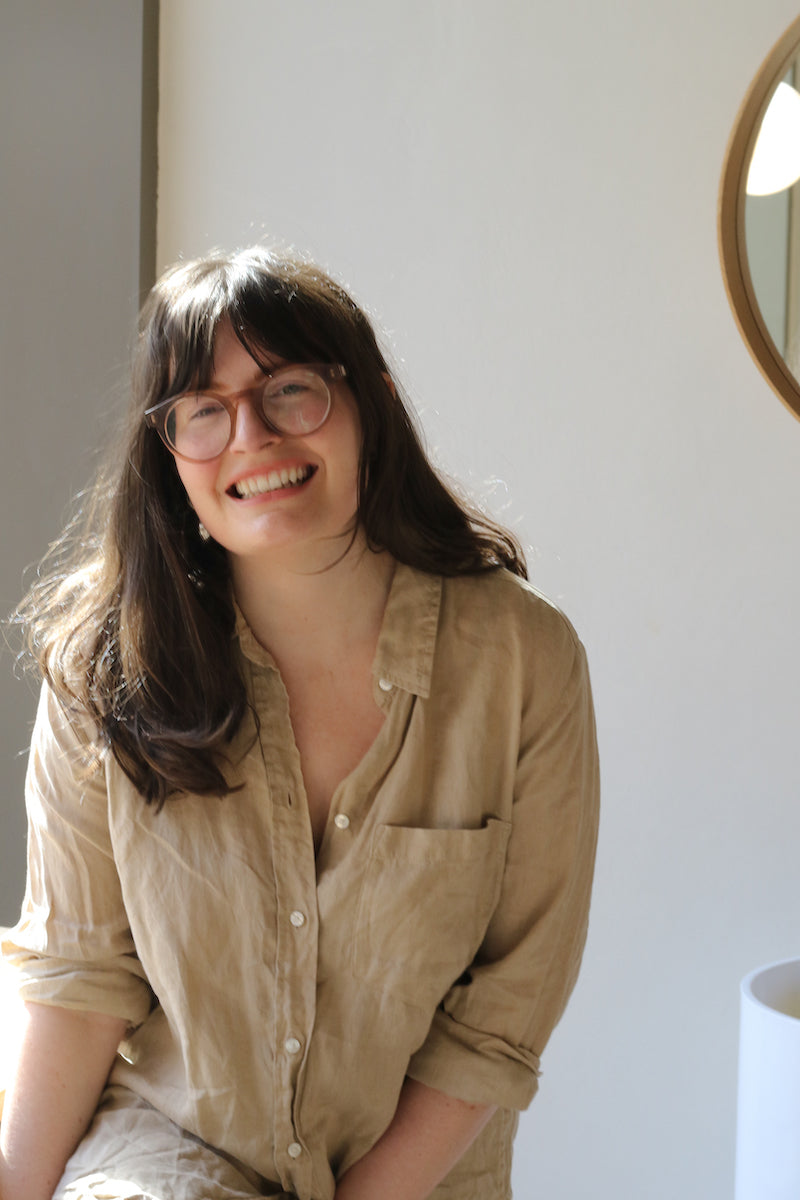 Abi Titterington Lough
In-house Aromatherapist & Holistic Facialist
The new holistic facial treatment with Abi is really gorgeous. She was so attentive in choosing the specific oils and treatment for my skin type, I had the most relaxing experience.
Abi is our in-house aromatherapist and holistic facialist, offering services that use a combination of natural skin care, innovative facial techniques, and personalised oils blended with specific plants that soothe the mind and body whilst elevating and enhancing a sense of beauty and wellbeing. Abi also hosts multi-sensory aromatherapy and wellbeing workshops, courses and experiences within London and across the UK & Europe. She is the founder of 20A Aromatherapy and co-founder of àile holistic.

Why do you choose to work with organic products?
I care about how we care for our amazing planet and respect nature in all her wonder. Simplicity is key for me and I prefer to work with only a few ingredients at a time to discover what they're capable of. 
What's your favourite local hang out?
I love Aya & Suki on Broadway market. Waking Dreams is a gorgeous place for yoga and sound baths. I'm a big fan of reformer Pilates and we're in good company with Studio Anatomy across the road and Tempo across the park. 
What's in your beauty bag?
Rogue essential oils and smelling strips find their way in every bag and pocket, along with a flower water mist, an àile holistic Ebb & Flow lip balm, a flower remedy or mushroom tincture, and whatever therapeutic perfume I'm currently wearing - at the moment it's violet leaf, clary sage & hiba wood. 
What do you do to unwind?
Massage my face. Whether it's 5,15 or 30 minutes, I find that so physically and mentally relaxing. I use gua sha and facial cups regularly, and always a daily massage with my hands after cleansing at night. A long soak in a scented bath with classical FM on is something I've done since I was a kid and the 'relax' neural pathway has stuck.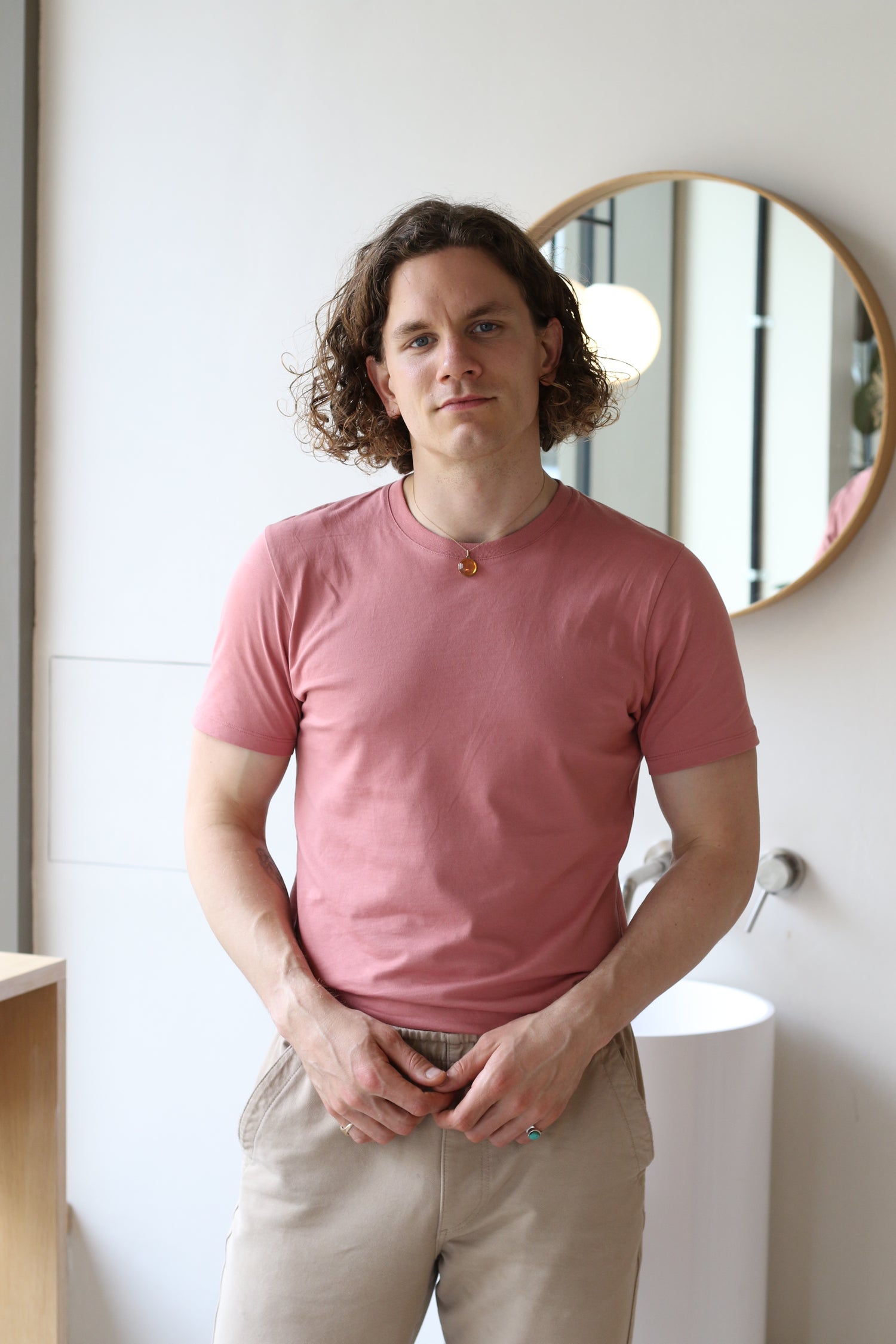 Tor Njamo
Healer
Tor Njamo is a healer, offering intuitive healing services and wellbeing coaching. Tor is a Spiritual Educator, Psychic Tarot Reader and Spiritual Healer. He is also the founder of Esoteric Studies Institute and a certified coach. He is passionate about helping people make better decisions for their wellbeing and find more calm and ease in their life by raising spiritual awareness and releasing negativity.
Why do you choose to work with organic products?
I choose to work with organic products because our body is our temple; it is the vessel that carries our Spirit, and we are responsible for looking after it whilst we are in the earthly realm. 
What's your favourite local hangout?
I enjoy having lots of green plants around me, so I like to visit Columbia road flower market.
What's in your beauty bag?
In my beauty bag, you will find my pendulum, female clear crystal quartz and male smokey quartz. And various products to style my hair. 
What do you do to unwind?
Because of the amount of energy that I give into my work, I have to spend a lot of time restoring. I do this in a few different ways, including meditation and breathing exercises, walking in solitude, journaling and reading. I also enjoy crossfit and bodyweight movement practice.
Olivia Crighton
Founder and Director
Fusing her love for anything creative and hands-on with a passion for looking after the environment, Olivia Crighton has built herself a reputable and respectable business in one of London's most creative communities.
Olivia is the founder and director of Glasshouse Salon, having launched the salon in 2013 after wanting to bring natural, organic and ethical hair and beauty to a wider audience. A trained hair stylist and New Zealand native, Olivia worked freelance as a hair stylist for top publications when she first arrived in London over ten years ago. The idea for Glasshouse came after Olivia noticed a surprising lack of organic and wellbeing focused salons that put hair condition above everything else. Olivia oversees the business from top to bottom, takes care of the team (and everything in-between!) whilst juggling family life with her young daughter.

Why do you choose to use organic products?

There are so many great benefits to working with more natural and organically based products, my initial attraction over 10 years ago was from a health perspective. Using fewer potentially harmful chemicals and including more gentle, natural ingredients is important to me not only for my own wellbeing but for my staff and clients'. The ethos of Glasshouse Salon has a big focus on hair condition - our products minimise compromise on the hair whilst colouring and we are able to repair damaged hair on the same day - which is very unique to the Organic Colour Systems brand. When we are gentler with the hair we can achieve better, more long-lasting colour results. I also love to support local, independent brands with their ethos in the right place - everything we sell in the salon and online at Glasshouse Shop has been carefully selected for their ethical principles, unique formulas and high performance. As an independent business owner, I wouldn't have it any other way.

Favourite East London hangout?

I love Glasshouse's location in lively East London - I was very drawn to Netil House when I was looking for spaces back in 2012 and the community feel of of the building really appealed to me. I now live in South East London, but I still enjoy travelling in for work and knowing I get to spend my time in a building and an area that I love. I run most of my meetings upstairs in the cosy Palm Greens cafe. The terrace is also lovely in the sunshine and we're so lucky to have London Fields right on our doorstep for some peace and quiet away from the salon!

What's in your beauty bag?

I'm often on the go which means practicality is a must when it comes to makeup. I always carry around an RMS Lip2Cheek and their "Un" Cover-Up - they're small and versatile; ideal for a quick touch-up. At home, I've been loyal to Organic Colour Systems' Power Build Shampoo for almost ten years now. It's an effective protein-based shampoo but the natural ingredients, gentle pH and sulphate-free formula mean it's perfect as a body wash too. I do regular hair treatments with Organic Colour Systems' Power Build Revamp - not just because it's brilliant at maintaining hair condition but also because it's a nice treat to spend 15 minutes by myself in the bath, especially with the demands of being a mum. Finally, The Natural Deodorant Co's deodorant balms are the best products of all time - I'd recommend them to anyone looking to introduce more natural products into their regime.

What do you do to unwind?

The ultimate fix for me is to get into nature. I love to go rambling in the countryside with my daughter, especially near the seaside as I absolutely love the sea air. On a normal day when I can't immerse myself in nature, I love to run a hot bath with epsom and dead sea salts. It's the best way for me to unwind and help with aches and pains after a long day. I love to 'clear the space' in our home by opening the windows wide to allow a fresh breeze in and infuse aromatherapy oils into the air. My staples are lavender, rosemary and frankincense.

I also try to dedicate a little time each week to some light meditation and spend some time writing any thoughts, ideas, gratitudes or aspirations onto paper. I never keep or look back on the notes, but I find the process of writing very therapeutic. We don't have a television, but I do love to snuggle up with a hot tea and a good film on my laptop as much as the next person.